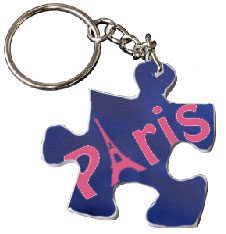 Sublimating a polymer keychain
How could I keep my keys in order? The only product that comes to our minds is a keychain. And since is the only item that allows us to keep our house, office and car keys from losing them, why not customizing them according to our likings?
Sublimating a polymer keychain is giving a particular touch to an item that everyone use on a daily basis and are very well received by guests at a party, coworkers or corporate events and they can be adapted to any occasion.
ColorMake™ offers various kinds of polymer keychains of different sizes and shapes from 4.10cm to 8.20cm. and it just weights less than 20gr. 
As all polymer based products, these are very easy to print. Using our high quality ink, along with our heat presses, you just need to set the time and the temperature to get the best image that it will last for years. Besides, you can use our newly dual heat press machine so you can print both sides at the same time!