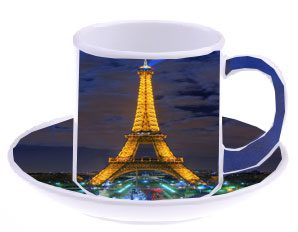 Printing mugs and polymer plates
Plates and Mugs are objects that can't be missed on your table. Having customized plates and cups makes a difference and a better impression between family and friends, and that is why Colormake™ won't miss the opportunity to offer you the opportunity to impress them with these remarkable products.
 From now on, you will be able to stay out of old boring plates and use your own ones with your favorite designs and the quality of these results will amaze you and everyone who tries them. You will obtain full color photographic images or even cartoon characters for the little ones.
For these two different type of products, you will need two heat press machines. One for the mugs (or any other bottle o glass cup you want to add) and the other ones for the plates (as well as any flat product of your preference) and along with ColorMake(tm) inks and paper you will have the high quality results you are expecting. 
You can also count on our bank of images on our website to get good ideas on what to use and how to take advantage on your favorite images to obtain the best results and amaze everyone.
Sublimating with our polymer based materials will give you professional, shiny and long-lasting results.