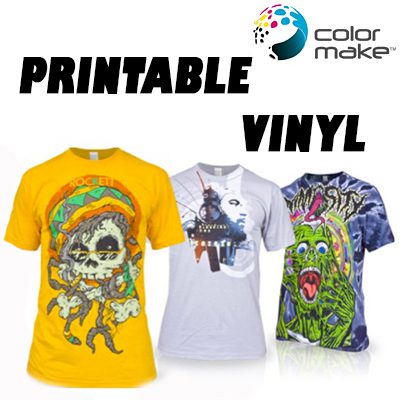 Printable Vinyl
Our new Printable Vinyl for fabrics is a next generation product Polymer-based material that comes in a thermo-adhesive sheet. It was developed for solvent and eco-solvent inks for fabric transfer by heat presses.
Complexity of designs are no longer an issue with this new product
Every type of image is suitable for printing with this new and innovative product, since it prints over white or transparent vinyl. The user is the one that chooses the image without limitations of color or color degradation. With conventional vinyl, users mostly use plane colors with a range of 4 or 5 colors. Every new added color represents more work and higher costs.
Now users can get rid of tons of stored plane color rolls that represent space and money in your storage room and even get rid of low rotation colors that might never been used.
An incomparable advantage…
Using Printable Vinyl, days of big inventory are over, since with just one roll millions of colors can be used. By removing all of those plane color rolls that tides down the option for multiple color printing, making it a very long process. We no longer have to be worried about the color that our clients will choose.
The advantages of using this new Printable Vinyl are noticeable. It's a simple process easier to learn and use.
Printable Vinyl is useable for cotton fabrics, polyester, a mixture of both and plenty more. High Definition photos can be printed over this vinyl with bright colors with long lasting results.
Another advantage that Printable Vinyl offers is that you can simulate different textures, so you can replace all of those institutes or company logos and badges that are embroided or stiched. To have this kind of image embroided, like the one with the number "7" we are showing, can take up to 15 minutes, while with using the Printable Vinyl takes just a few seconds.
Besides, without a doubt you can use aging or vintage images, having a very original and high quality product. Like the "California" example we have on the left.
With our new Printable Vinyl, your creativity is the limit
Process: Printing, Cut and Application of the Printable Vinyl
 Selection of the design
Printing image on the plotter 
 Image Cut
Get rid of the spare material and place the transport material over the image.
Image transfer with heat press machine and take out the transport material
Dress and enjoy!
Printable Vinyl represent a great advantage over current options because the split of colors gets eliminated. Durability is higher than the ones with traditional cotton transfers with Dye or Pigmented inks

Print, cut and transfer
[button href="http://colormake.webtus.net/request-product-information/?in=Printable%20Vinyl" size="xlarge" title="Request Information" color="#14b326″ textcolor="#ffffff"]About our printable Vinyl productos[/button]