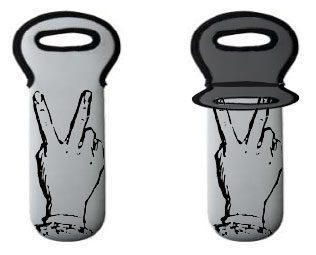 Customize your wine bottle cooler
We are sure that you have attended an important event where you want to bring a bottle of  wine to celebrate that special moment. Maybe you would like to bring it in a way that doesn't lose its temperature. Color Make™ brings a blank: Wine Bottle Cooler that allows you to carry the bottle wherever you want.
The cooler is an thermal insolation neoprene carrier made for wine bottles that keeps the temperature for a longer period of time. A big advantage on our cooler is that it has a handle for easy carrying and avoiding more heat contact with the bottle.
For giving this as a present, you have to take the moment and the situation into account and that will give you an idea on what type of image to use. This could be the ideal touch for carrying that present in christmas, dinner or corporate gatherings. You could have a more elegant generic design that could be adapted to many situations and add other details to make it even more customizable depending on the person you are giving the present. 
In order to print your blank you most count on the necessary equipment, like the heat press, paper and ink. Color Make™ offers the whole set of high quality products for you to have the best results.
Customize your wine bottle cooler so it can be part of your special moments.