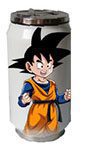 Customize a can
You have surely seen tons of places where you can see cans with fun designs for people of all ages. Now it is possible to make of your own. And the best part is that this can is reusable and you can keep as long as you want.
Color Make™ offers you a double wall white or silver aluminum can with silicone top that can hold up to 280 ml of any liquid. Because of its double wall design, it keeps your liquid's temperature for a long time.
This double wall can could be used even for your kid's lunch box and ideal for presents related to kids or kid's parties. But this is also very suitable for adults for its use is convenient for having at the office or even in the house for coffee, water, juice or basically any drink.
This blank allows you to print the image of your choice, like favorite cartoons, celebrities, favorite sports teams or family images. We know that the quality of the image is very important and Color Make™ guarantees your satisfaction in the whole process of sublimation and this is why we offer the best set for machines, ink, paper and tons of other blanks.
With Color Make™ there are no limits on what you want to print!